Posted 1 year ago :: Last edited 1 year ago by
admin
Some bright little beanlings are here to celebrate Valentine's day!

Love Letters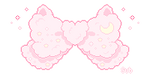 This cute little beanling was made by the fabulous 
dragonprr
 ! 
SB: 20$
MI: 1$

Ear Type: Kitty (Common)
Feeler Type: Winglet (Rare)
Wing Type: Floating Angel (Legendary)
Flower: Multi-Flower (Rare)

Mutations:
Decorated Wish (Legendary) 
Multi Tail (Rare)
Brush (Common)
Shapes in Dew (Common)


Candy Hearts

This Sweet little Flowerling was made by me~
SB: 30$
MI: 1$

Ear Type: Fairy (Rare)
Feeler Type: Pom (Common)
Wing Type: Ribbon (Uncommon)
Flower: Multi-Flower (Rare)
Mutations:
Halo (Rare)
Odd Form Dew (Uncommon)
Fluffy Cheeks (Common)
Transparency - Glass Body (Legendary)
Skirt (Uncommon)
Bud (Uncommon)
Multi-pollen (Uncommon)

This auction will run on DA!
 Feel free to check out the fun stuff we have going on over on 
the Beanling Patch site! 

Beanlings / Flowerlings are a closed species by 
Toffee-Tama
 - Please do not make your own without permission!
---
Comments
There are no comments yet.
Authentication required
You must log in to post a comment.
Log in